Recent TTN News Content
• Florida's civil rights movement showcased in museum's new exhibit - The new civil rights exhibit at the Museum of Florida History tells about pioneers in the movement for equal rights in Florida. ...
• If you are going to vote, Crist and Graham seem like best choices - The Tallahassee News supports Charlie Crist for governor, Gwen Graham for U.S. representative. ...
• 'Officer Friendly' changes his role as he dons the deadly armor of a hostile invading army - As police acquire more surplus military equipment, the urge to use it takes on a kind of urgency, resulting in often-dangerous consequences for the public. Police say they face more dangerous criminals and need to have sophisticated tools, but sometimes the tactics backfire. ...
• New state crime statistics fraught with questions, challenges on racial imbalance - Florida's new crime statistics show high percentages of blacks arrested for crime and incarcerated. Figures draw responses of law enforcement....
• Dear Dad: How to keep your child safe from confrontation with police, road ragers - Dear Parents - Please teach your children how to avoid confrontation with police officers. Then go out and fight for reforms that are so badly needed. ...
• How long will public tolerate militarized police? Why are so many blacks killed? - Poice training varies, but police usually have the license to kill if they say they were in fear of their lives. Most police officers are exonerated because of these conditions. ...
• Gators will rebound as Tally News makes fearless top-20 college football predictions - Grab your seat and hold on to your hat! Football season is going to kick off and fearless prognosticator Jack Strickland tells it like it is going to be. FSU, Alabama, and watch for the Gators. ...
• Markel letter writer said he must be shut down 'by all means necessary' - FSU Professor Dan Markel, shot down brutally last week, thought his family was in danger two years ago in a dispute on the Web. He was seen by some as an elite representative of law schools that were misleading students into thinking there were career opportunities. ...
• Nation's tragic cycle of police-citizen violence reminds of a killer's oath at Florida State prison - The battle between the good guys and the bad guys takes on new meaning alongside a drastic increase in police-related shootings. It is a vicious cycle and well-illustrated by two ex-Florida prisoners who shot and killed four policemen in California years ago. ...
• Police profiled my car, surrounded me with guns in terrifying mistake - and maybe there is a lesson - Columnist could easily have been more than simple victim of a mistake - he might have been shot by police. Young people need to know that there are times when authority must be obeyed. It could happen to anyone. ...
• This is how Florida's prison mills turn small-time criminals into monsters - Instead of rehabilitation, prisoners like Dontae Morris are spit out into society to become more accomplished felons and even murderers. Morris went on a rampage and killed five people, including two police officers. Florida has to do better. ...
• Florida Daffodil Society shows off some of the astonishing blooms for late winter, early spring - Daffodils are blooming and the Florida Daffodil Society, in its 20th anniversary, shows off some of the best varieties to residents. ...
• Is young mother who is hauled off to prison a victim of state neglect in child abuse situation? - A young mother who "shocked the conscience of the court" for starving her child did not need to be sentenced to 17 years in prison where she will never get the treatment she needed for neglecting her child. ...
• The story out of Florida prisons: released, unskilled inmates forced again into life of crime - Dyson A. Graham returned to prison after a hijacking last week, and his life symbolizes what goes on in Florida prisons- which fail to rehabilitate and send unprepared parolees back to a life of crime. ...
• Cascades Park will have its grand opening on March 14 - After four years of construction, the new Cascades Park will open next month, with its ampitheatre and many events planned in the next 18 months. ...


CNN National Headlines
»
The week in 34 photos
»
Look at me! 25 selfies of the week
»
What a shot! 39 sports photos
»
Smoking gave me nightmares
»
Soldier broken by war silenced
»
Want to help veterans?
»
Humans on Mars by 2035?
»
Think fireballs are rare? Think again
»
Comet lander conks out
»
One of the last 9/11 search dogs

NPR National Headlines
»
Ferguson Clergy Call For Peace From The Pulpit
»
U.S. And Turkey Discuss Strengthening Syrian Opposition
»
MTA Targets 'Man-Spreading' And Other Subway Faux Pas
»
Iran Talks Intensify On Day Before Deadline
»
Marion Barry, D.C. Former Mayor, Dies At 78
»
Immigrants Scramble To Figure Their Status Under Obama"s Plan
»
Ferguson Activist: It's A Wicked Air Looming
»
Women Sweat The Test To Show Marines They're Combat-Ready
»
What Microbes Lurked In The Last Public Restroom You Used?
»
When Thanksgiving Was Weird
---
Local and State News and Views...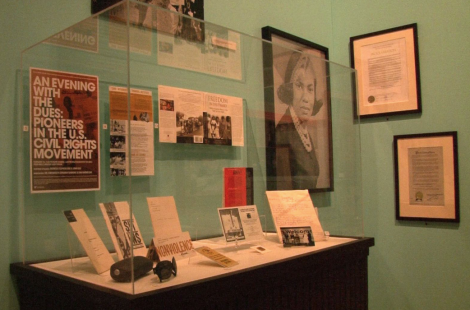 Exhibit evokes memories of people involved in protests. Photo by Keira Green.
Florida's civil rights movement showcased in museum's new exhibit
November 19, 2014
By: Keira Green

Montgomery and Selma weren't the only cities to lead successful and powerful civil rights movements.
Tallahassee and other Florida cities, such as St. Augustine and Miami, also took part in the movement for social equality for African-Americans and minorities.
The Museum of Florida History has opened up a brand new exhibit, "Civil Rights in the Sunshine State." The exhibit was created to showcase the grand history and the struggle for equality of African- Americans and minorities in this state.
"This exhibit is important for Florida's history because the movement here was significant to the equality of African- Americans," said Michelle Hearn, the curator of the exhibit.
To really appreciate the exhibit you must know the true history of Florida and the movement that began here. For more information, go to http://www.themuseumoffloridahistory.com.
"We start the exhibit with slavery times in the mid-to-late 1800s to the 1930s and 1940s because that is when the movement really started," said Hearn.
The civil rights era in Florida had many stages. The first stage began in the mid-to-late 1800s toward the end of slavery times. The slaves that were educated made it their mission to educate other slaves and started their own schools.
These schools evolved into HBCUs- Historically Black Colleges and Universities - institutions designed for the higher learning of African- Americans.
Students and faculty of these institutions eventually led the protests and marches of the movements.
In Tallahassee the movement was lead by Florida A&M University students.
These students… (Read More)
---

If you are going to vote, Crist and Graham seem like best choices
November 03, 2014
By: Michael Abrams

We've given a lot of thought to the governor's race in Florida, given that both candidates seem to lack the tools to run the state in a way that would… (Read More)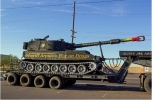 'Officer Friendly' changes his role as he dons the deadly armor of a hostile invading army
September 11, 2014
By: Jack Strickland

Why do the police have so much military equipment these days? Do they really need grenade launchers, sssault rifles, armored personnel carriers, and light tanks?

Sometimes police… (Read More)
---

Opinion...
Watching the soaps is something I can't get away from, thanks to grandpa
By Keira Green
They are "Bold and Beautiful" and they make "Young" people "Restless."
They are soap operas. I have been on this earth for 21 years and for as long as I can remember I have been in love… (Read More)
---
Florida Tales...
Kids at hospital show No.1 Gator basketball team true courage as laughter, smiles are shared
By Jack Strickland
The number one nationally ranked Florida Gators basketball team faced two daunting challenges last week, one of them unknown to sportscasters.
They destroyed perennial powerhouse Kentucky on the basketball court on Saturday afternoon.
But earlier… (Read More)
---
The Outlook...
---