Recent TTN News Content
• 'What? Café' menu boasts music, has become a popular hangout for young adults, state workers, others - What? Cafe is a place to play music, drink coffee, sample a variety of food. ...
• Civil rights pioneers tell of struggle in Tallahassee - 'Unspoken bond' between people of civil rights generation is explained by those who went through the struggle in Florida. ...
• IBM corporation helped Nazi Germany round up Jews and send them to extermination camps, author says - IBM leased its computing machines to Nazi Germany to round up Jews and send them to their deaths by the millions in World War II. ...
• Quick triggers, quick judgment - when did life become so outrageously cheap in our country? - The parade of death continues as police shoot and are shot in a society that needs to take time to retrain its ways of thinking. ...
• Rickards student faces charges for carrying gun to school - A Rickards student is facing charges for carrying a gun to school. He apparently mentioned this over the Internet and was arrested by police at the school. ...
• He keeps a vigil for his daughter Staci as killer tries to walk free from prison - Marvin Weinstein drove 500 miles last week to Tallahassee to ask Florida's Parole Commission to keep the killer of his daugter in jail. ...
• Abused, neglected animals come to local animal shelter at rate of more than 70 a day - Animals cannot speak for themselves or fight back. Many face their last chance to survive. More than 70 animals are brought into the Tallahassee-Leon County Animal Services Center every day. ...
• Many other tragic shootings shed stronger light on police behavior than the Michael Brown incident - There are many other cases involving police shootings of innocent victims that make for better arguments than the Michael Brown case. Columnist Jack Strickland tells why these cases need more scrutiny....
• Florida's civil rights movement showcased in museum's new exhibit - The new civil rights exhibit at the Museum of Florida History tells about pioneers in the movement for equal rights in Florida. ...
• If you are going to vote, Crist and Graham seem like best choices - The Tallahassee News supports Charlie Crist for governor, Gwen Graham for U.S. representative. ...
• 'Officer Friendly' changes his role as he dons the deadly armor of a hostile invading army - As police acquire more surplus military equipment, the urge to use it takes on a kind of urgency, resulting in often-dangerous consequences for the public. Police say they face more dangerous criminals and need to have sophisticated tools, but sometimes the tactics backfire. ...
• New state crime statistics fraught with questions, challenges on racial imbalance - Florida's new crime statistics show high percentages of blacks arrested for crime and incarcerated. Figures draw responses of law enforcement....
• Dear Dad: How to keep your child safe from confrontation with police, road ragers - Dear Parents - Please teach your children how to avoid confrontation with police officers. Then go out and fight for reforms that are so badly needed. ...
• How long will public tolerate militarized police? Why are so many blacks killed? - Poice training varies, but police usually have the license to kill if they say they were in fear of their lives. Most police officers are exonerated because of these conditions. ...
• Gators will rebound as Tally News makes fearless top-20 college football predictions - Grab your seat and hold on to your hat! Football season is going to kick off and fearless prognosticator Jack Strickland tells it like it is going to be. FSU, Alabama, and watch for the Gators. ...


CNN National Headlines
»
Tsarnaev attorney tells jurors his client admits to Boston bombings
»
Tsarnaev jury cuts across class, but not race
»
Boston bombing trial: Life or death
»
Tsarnaev's connections: Who's who
»
Timeline of the bombings, manhunt and aftermath
»
Follow along with The 13th Juror
»
Feds clear Ferguson officer
»
Justice Dept. echoes Ferguson residents' complaints
»
Shots fired near NSA
»
Ben Carson: Prisons prove being gay is a choice

NPR National Headlines
»
Programs Help Students Cut Back On Booze, But Not For Long
»
Few Clues On Health Law's Future Emerge In Supreme Court Arguments
»
Ferguson Report: Justice Dept. Says Wilson Won't Face Civil Rights Charges
»
People With Eczema Are Itching For Better Health Care
»
The Magic Trick That Could Help Students Pay For College
»
A Few Reactions to the DOJ's 'Scathing' Report on Ferguson Cops And Racial Bias
»
Rapper Jin Tries To Stretch His '15 Minutes' Of Fame
»
Man's Identity Questioned In LAPD Skid Row Shooting
»
For U.S. Children, Minorities Will Be The Majority By 2020, Census Says
»
Boston Marathon Bombing Trial Begins For Dzhokhar Tsarnaev
---
Local and State News and Views...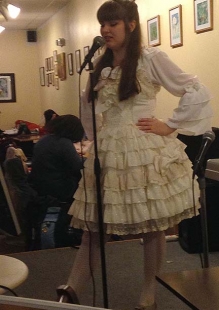 Delano_Hughes sings in Japanese dress.
'What? Café' menu boasts music, has become a popular hangout for young adults, state workers, others
February 23, 2015
By: Aerika Miles

What? Café is beloved by many local students in Tallahassee. Coffee, tea, pastries and the famous fried rice are specialties at the café.
A Tallahassee native and humanities major at Tallahassee Community College, Delano Hughes, has come to the popular spot every Friday since her junior year of high school.
"All my friends come here and I know the staff really well. It's a comfortable spot to hang out and be who you are," Hughes said.
The café started as a place to play music in the community and to have drinks. Two Florida State graduates created the venue, then became owners. Later on, art and Asian culture was added to the project.
Most of the drinks are Asian-related. The unusual name of the restaurant was a sudden decision - and the owners found the name interesting.
Current owner of What? Café, Kahlil Seymour put his own spin on the café to make it what it is today.
"I like the diversity here. We get business professionals, state workers to young adults and college students every day. This is something for everybody. People get coffees, mochas, or smoothies and get work done, have meetings, or just to chill."
The CEO continued, "We are a place of entertainment also, not a restaurant - however our food is really good."
The popular items on the menu are the mango smoothies, honey green tea, and fried rice.
Friends and Tallahassee locals, Katherine Cornelison and Zachary Dueler said they met… (Read More)
---

Civil rights pioneers tell of struggle in Tallahassee
February 19, 2015
By: Brielle Gordon

Civil rights pioneers the Rev. Henry Steele, PhD, and Attorney John Due recently shared their captivating stories at the Museum of Florida History auditorium in honor of Black History month.
…
(Read More)

IBM corporation helped Nazi Germany round up Jews and send them to extermination camps, author says
January 27, 2015
By: Ayana King

One of the largest American corporations was involved in the extermination of six million Jews by Germany during the Holocaust in World War II.
In honor of the 70th International… (Read More)
---

Opinion...
Loss of limb no barrier for people in new support group in town
By D'Aundre Marion
A new Tallahassee organization provides a warm atmosphere and a positive impact on a special group of disabled students - those who have lost a limb or who live with abnormalities.
Recently, a meeting took place… (Read More)
---
Florida Tales...
Sophia, 10, battles leukemia with courage as champion Gator volleyball team wears her ribbon
By Jack Strickland
Sophia Castro is fighting a tough battle against leukemia.
The 10-year-old has been confined to Shands Hospital in Gainesville for several weeks. She never left the hospital but, last week, but she had a powerful impact… (Read More)
---
The Outlook...
---