Recent TTN News Content
• Small explosion causes chaos at Florida A&M University - An explosion at the FAMU campus Thursday was actually a dishwasher catching fire. However it did cause a scare among faculty, staff and students at the Presidential Dining Hall. ...
• In a surprise appearance, Shaq has a ball inspiring neighborhood kids to dream big - A surprise visit by the former star basketball player to Gainesville and the police department brought out good feelings all around as kids got to play with superstar. ...
• 'Cash register justice' for the poor means no justice for many in Florida courts - Prosecutors now seek to extract fees from indigent defendents to help pay office costs, causing possible miscarriage of justice, says national justice center. ...
• If Jeb Bush ever really went to prison in Florida, he wouldn't get a happy reception - The disaster of corruption, privatized prisons, and loss of competent leadership in state prisons is Jeb Bush's legacy in Florida. ...
• Court fails to convict police officer in NC shooting death of former FAMU football player - Family pleads for calm as jury fails to find officer guilty in shooting death of Jonathan Ferrell in Charlotte; no decision yet on retrial. ...
• Carson wins best dressed while Trump brings up the rear in the clash of haberdashery at GOP debate - Who was dressed to win the recent GOP debate? Who wore the most stunning tie, and the best cut suit? Looks like neurosurgeon Ben Carson knows how to dress. Donald Trump, who sells a line of clothing, ironically finishes last. ...
• FSU could receive NCAA sanctions similar to those of Penn State sex scandal - Recent events will add up to more problems for Florida State University when NCAA and Title IX investigators report their findings. ...
• Gators end Florida State's baseball hopes in big wins in Gainesville; on to the Series - Getting back into the College World Series was a dream for both teams, but the Gators managed to teach Florida State a lesson or two. ...
• Miracle of heart transplant puts 'inoperable' Rachel, 10, back in the arms of her new family - The dramatic story of how 10-year-old Rachel McCary got her new heart and a new chance to live is told by Jack Strickland who watched closely at the hospital in Gainesville while a miracle was performed. ...
• Colorful veteran George Barnes' last words were "Don't give up the ship" - George Barnes found himself an outsider at the end of his life, but he made a difference to a lot of people. He gave and shared compassion, and up to the end, he fought a good fight and found a lot of friendship. ...
• VA needs more resources, says vet who was saved, then tossed out minus his wallet and dignity - Experiences suggest the VA does not care about the very people they are supposed to serve, says man who knows...
• 'What? Café' menu boasts music, has become a popular hangout for young adults, state workers, others - What? Cafe is a place to play music, drink coffee, sample a variety of food. ...
• Civil rights pioneers tell of struggle in Tallahassee - 'Unspoken bond' between people of civil rights generation is explained by those who went through the struggle in Florida. ...
• IBM corporation helped Nazi Germany round up Jews and send them to extermination camps, author says - IBM leased its computing machines to Nazi Germany to round up Jews and send them to their deaths by the millions in World War II. ...
• Quick triggers, quick judgment - when did life become so outrageously cheap in our country? - The parade of death continues as police shoot and are shot in a society that needs to take time to retrain its ways of thinking. ...


CNN National Headlines
»
Family massacre highlights region's ties to drug trade
»
Speculation swirls in Ohio family murders
»
Ohio shootings: What we know
»
Molotov cocktails at Seattle march
»
1st U.S. cruise ship to Cuba in decades draws protests
»
Mom of victim: Heroin is a 'death sentence'
»
Puerto Ricans leaving island for U.S. in record numbers
»
Missing climber's body found in ice after 16 years?
»
Missing mom, daughter rescued from New Zealand forest
»
Florida crash leaves 6 dead, including 4 children

NPR National Headlines
»
Detroit Teachers' 'Sick-Out' Closes More Than 90 Schools
»
Halliburton, Baker Hughes Kill $28 Billion Merger Amid Regulator Opposition
»
Misty Copeland Inspires A Barbie 'Sheroes' Doll
»
'Touch Tours' Help Blind Experience Philadelphia's Historic Food Scene
»
100 Meters, 100 Years Old: Ida Keeling Breaks Racing Record
»
A 'Tough Decision': Puerto Rican Governor Says Island Will Miss Debt Payment
»
Under Attack, Commodity Promotion Programs Try To Hide Their Emails
»
CIA 'Live Tweets' Bin Laden Raid On 5th Anniversary
»
Can An Online Game Help Create A Better Test For TB?
»
Ringling Bros. Circus Holds Final Shows Featuring Elephants
---
Local and State News and Views...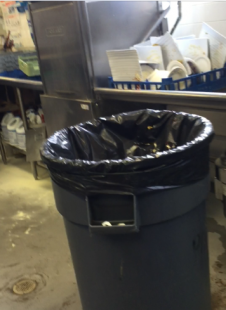 Scene of Fire (Photo by Brianna Harmon)
Small explosion causes chaos at Florida A&M University
February 04, 2016
By: Brianna Harmon and Lyric Porter

Flying sparks and a small explosion in the Presidential Dining Room caused about 30 faculty, staff and students flee from the area Thursday about 1:30 p.m. at Florida A&M University.
Patrons left purses, phones and other personal belongings after staff member Derek Mckinney who was washing dishes emerged from the kitchen and shouted "Run!"
Police cars and an ambulance rushed to the scene as a crowd gathered to see what had caused the chaos in the dining room which is open to the entire FAMU community.
Mckinney said that while he was washing dishes he heard a crackling noise coming from the dishwasher and saw sparks.
Jessie Small, a FAMU police officer, said the fire was put out quickly and the problem was handled well. He also said there was little to no damage but a couple of glasses were broken and "thankfully no injuries."
Outside of the dining room students could see broken glass, spilled water and items belonging to people who were fleeing the scene. Some people never got more than a few bites to eat. There was only one single door from which patrons could exit the restaurant.
A person who works at the dining room made an observation that "this place is way too small for that many people."
Many students were capturing the incident on video.
A student who tried to run got her arm caught in the single door. As everyone was trying to push through, she squeezed out.
The… (Read More)
---

In a surprise appearance, Shaq has a ball inspiring neighborhood kids to dream big
January 27, 2016
By: Jack Strickland

Shaquille O'Neal stole the show in Gainesville, Florida last weekend. He rolled into town to support the Gainesville Police Department and to inspire and support kids in a disadvantaged neighborhood.… (Read More)

'Cash register justice' for the poor means no justice for many in Florida courts
November 16, 2015
By: Jack Strickland

By Jack Strickland
Cash register justice is flourishing in Florida. These days, In criminal courts in the Sunshine State, you can get the amount of justice you can afford to… (Read More)
---

Opinion...
Gay marriage decision is intriguing as we look at the opinions of Supreme Court justices
Part One of Three Parts Following
It's been a short time since the Supreme Court issued its decision in Obergefell v. Hodges in which it held that the Constitution protects the right of marriage for same sex couples. I read… (Read More)
---
Florida Tales...
Swept up into court, the homeless lady gets a bit of justice, a taste of mercy in daily docket
By Jack Strickland
Subject: A Day In Court
Everyone should spend a day at a courthouse sitting in a courtroom. Watching justice dispensed is both educational and thought provoking. It's not unlike the process of making sausage or drafting laws… (Read More)
---
The Outlook...
---