Recent TTN News Content
• 'Officer Friendly' changes his role as he dons the deadly armor of a hostile invading army - As police acquire more surplus military equipment, the urge to use it takes on a kind of urgency, resulting in often-dangerous consequences for the public. Police say they face more dangerous criminals and need to have sophisticated tools, but sometimes the tactics backfire. ...
• New state crime statistics fraught with questions, challenges on racial imbalance - Florida's new crime statistics show high percentages of blacks arrested for crime and incarcerated. Figures draw responses of law enforcement....
• Dear Dad: How to keep your child safe from confrontation with police, road ragers - Dear Parents - Please teach your children how to avoid confrontation with police officers. Then go out and fight for reforms that are so badly needed. ...
• How long will public tolerate militarized police? Why are so many blacks killed? - Poice training varies, but police usually have the license to kill if they say they were in fear of their lives. Most police officers are exonerated because of these conditions. ...
• Gators will rebound as Tally News makes fearless top-20 college football predictions - Grab your seat and hold on to your hat! Football season is going to kick off and fearless prognosticator Jack Strickland tells it like it is going to be. FSU, Alabama, and watch for the Gators. ...
• Markel letter writer said he must be shut down 'by all means necessary' - FSU Professor Dan Markel, shot down brutally last week, thought his family was in danger two years ago in a dispute on the Web. He was seen by some as an elite representative of law schools that were misleading students into thinking there were career opportunities. ...
• Nation's tragic cycle of police-citizen violence reminds of a killer's oath at Florida State prison - The battle between the good guys and the bad guys takes on new meaning alongside a drastic increase in police-related shootings. It is a vicious cycle and well-illustrated by two ex-Florida prisoners who shot and killed four policemen in California years ago. ...
• Police profiled my car, surrounded me with guns in terrifying mistake - and maybe there is a lesson - Columnist could easily have been more than simple victim of a mistake - he might have been shot by police. Young people need to know that there are times when authority must be obeyed. It could happen to anyone. ...
• This is how Florida's prison mills turn small-time criminals into monsters - Instead of rehabilitation, prisoners like Dontae Morris are spit out into society to become more accomplished felons and even murderers. Morris went on a rampage and killed five people, including two police officers. Florida has to do better. ...
• Florida Daffodil Society shows off some of the astonishing blooms for late winter, early spring - Daffodils are blooming and the Florida Daffodil Society, in its 20th anniversary, shows off some of the best varieties to residents. ...
• Is young mother who is hauled off to prison a victim of state neglect in child abuse situation? - A young mother who "shocked the conscience of the court" for starving her child did not need to be sentenced to 17 years in prison where she will never get the treatment she needed for neglecting her child. ...
• The story out of Florida prisons: released, unskilled inmates forced again into life of crime - Dyson A. Graham returned to prison after a hijacking last week, and his life symbolizes what goes on in Florida prisons- which fail to rehabilitate and send unprepared parolees back to a life of crime. ...
• Cascades Park will have its grand opening on March 14 - After four years of construction, the new Cascades Park will open next month, with its ampitheatre and many events planned in the next 18 months. ...
• Other shoe ready to fall in Jameis Winston case as alleged victim hires gender-equity attorneys - Jameis Winston as well as FSU may be scrutinized under a fresh legal limelight as the attorney for an FSU student has hired some legal help with expertise in gender equity cases in sports. ...
• Questions linger about disappearance of Tiffany Sessions, despite naming of purported killer - Questions linger about the suspect in the disappearance of the University of Florida student 25 years ago - despite the fact that a fresh link to a convicted rapist and murderer who died in prison is thought by many to have solved the case. ...


CNN National Headlines
»
The week in 37 photos
»
Look at me! 17 selfies of the week
»
Moon bites sun: Your photos
»
Obese dummies prevent road deaths?
»
Jack-o'-Lantern sun
»
Mars travel possible with hibernation
»
How much sex counts as exercise?
»
Students took fake 'paper classes'
»
DNA tests solve Oklahoma cold cases
»
Romance ends in chimney

NPR National Headlines
»
Health Care Worker Tests Negative For Ebola In NJ, Stays In Quarantine
»
Turkey Is A 'High-Maintenance Ally' In Fight With ISIS
»
New Mandatory Quarantines May Drive Away Ebola Volunteers
»
Ballot Questions Draw Voters In 43 States
»
No Quick Fixes For Drivers Affected By Air Bag Recall
»
New York, New Jersey Will Quarantine All Travelers With Ebola Contact
»
Was CDC Too Quick To Blame Dallas Nurses In Care Of Ebola Patient?
»
For The Midterm Elections, A Book On 'What It Takes' To Win
»
Fighting The Stigma Of Ebola With Hugs
»
For Hospitals, Doing More On Ebola May Mean Less Elsewhere
---
Local and State News and Views...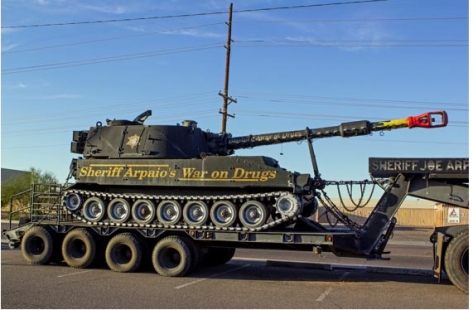 Arizona sheriff well-stocked with military gear (photo courtesy of FreeThoughtProject.com)
'Officer Friendly' changes his role as he dons the deadly armor of a hostile invading army
September 11, 2014
By: Jack Strickland

Why do the police have so much military equipment these days? Do they really need grenade launchers, sssault rifles, armored personnel carriers, and light tanks?

Sometimes police departments take on the appearance of an invading army going into battle. Their enemy appears to be the American public.
They say they are going to war against crime in very dangerous environments.

The move toward upgrading the equipment used by local police departments began in earnest in the late 1990's. On March 3, 1997, two career criminals robbed a bank in North Hollywood, California.
They were wearing heavy body armor and were armed to the teeth with assault rifles. Policemen confronted them as they were coming out of the bank. The robbers reportedly fired more than 100 rounds as they exited the bank. Their escape car was strategically parked near the front of the bank. It contained a trunk full of ammo and equipment for the bandits use in rearming themselves as they made their getaway.

The police were severely outgunned. They were armed with 38's and 45's. Their equipment was no match for the heavy armament of the robbers. The officers commandeered the arsenal of a nearby gun store. They seized nine high powered rifles with enough firepower to pierce the heavy body armor worn by the robbers.

A running gun battle took place on the streets. A news helicopter captured the battle in living color and… (Read More)
---

New state crime statistics fraught with questions, challenges on racial imbalance
September 08, 2014
By: Jack Strickland

Newly released Florida crime statistics present some eye-catching trends. For the most part, crime in Florida seems to be on a downward spiral. In most areas, fewer crimes were reported… (Read More)

Dear Dad: How to keep your child safe from confrontation with police, road ragers
August 30, 2014
By: Jack Strickland

Dear Dad:

Your attention is needed. Our children are at risk.

The police are not playing. These days they are trigger-happy. If your child… (Read More)
---

Opinion...
Watching the soaps is something I can't get away from, thanks to grandpa
By Keira Green
They are "Bold and Beautiful" and they make "Young" people "Restless."
They are soap operas. I have been on this earth for 21 years and for as long as I can remember I have been in love… (Read More)
---
Florida Tales...
Kids at hospital show No.1 Gator basketball team true courage as laughter, smiles are shared
By Jack Strickland
The number one nationally ranked Florida Gators basketball team faced two daunting challenges last week, one of them unknown to sportscasters.
They destroyed perennial powerhouse Kentucky on the basketball court on Saturday afternoon.
But earlier… (Read More)
---
The Outlook...
---