Recent TTN News Content
• VA needs more resources, says vet who was saved, then tossed out minus his wallet and dignity - Experiences suggest the VA does not care about the very people they are supposed to serve, says man who knows...
• 'What? Café' menu boasts music, has become a popular hangout for young adults, state workers, others - What? Cafe is a place to play music, drink coffee, sample a variety of food. ...
• Civil rights pioneers tell of struggle in Tallahassee - 'Unspoken bond' between people of civil rights generation is explained by those who went through the struggle in Florida. ...
• IBM corporation helped Nazi Germany round up Jews and send them to extermination camps, author says - IBM leased its computing machines to Nazi Germany to round up Jews and send them to their deaths by the millions in World War II. ...
• Quick triggers, quick judgment - when did life become so outrageously cheap in our country? - The parade of death continues as police shoot and are shot in a society that needs to take time to retrain its ways of thinking. ...
• Rickards student faces charges for carrying gun to school - A Rickards student is facing charges for carrying a gun to school. He apparently mentioned this over the Internet and was arrested by police at the school. ...
• He keeps a vigil for his daughter Staci as killer tries to walk free from prison - Marvin Weinstein drove 500 miles last week to Tallahassee to ask Florida's Parole Commission to keep the killer of his daugter in jail. ...
• Abused, neglected animals come to local animal shelter at rate of more than 70 a day - Animals cannot speak for themselves or fight back. Many face their last chance to survive. More than 70 animals are brought into the Tallahassee-Leon County Animal Services Center every day. ...
• Many other tragic shootings shed stronger light on police behavior than the Michael Brown incident - There are many other cases involving police shootings of innocent victims that make for better arguments than the Michael Brown case. Columnist Jack Strickland tells why these cases need more scrutiny....
• Florida's civil rights movement showcased in museum's new exhibit - The new civil rights exhibit at the Museum of Florida History tells about pioneers in the movement for equal rights in Florida. ...
• If you are going to vote, Crist and Graham seem like best choices - The Tallahassee News supports Charlie Crist for governor, Gwen Graham for U.S. representative. ...
• 'Officer Friendly' changes his role as he dons the deadly armor of a hostile invading army - As police acquire more surplus military equipment, the urge to use it takes on a kind of urgency, resulting in often-dangerous consequences for the public. Police say they face more dangerous criminals and need to have sophisticated tools, but sometimes the tactics backfire. ...
• New state crime statistics fraught with questions, challenges on racial imbalance - Florida's new crime statistics show high percentages of blacks arrested for crime and incarcerated. Figures draw responses of law enforcement....
• Dear Dad: How to keep your child safe from confrontation with police, road ragers - Dear Parents - Please teach your children how to avoid confrontation with police officers. Then go out and fight for reforms that are so badly needed. ...
• How long will public tolerate militarized police? Why are so many blacks killed? - Poice training varies, but police usually have the license to kill if they say they were in fear of their lives. Most police officers are exonerated because of these conditions. ...


CNN National Headlines
»
The FBI's most-wanted terrorists
»
Oklahoma City Bombing Fast Facts
»
'Bored' teen convicted in random 'thrill kill'
»
Jury weighs fate of accused killer of Etan Patz
»
Creator of indoor malls dies at 91
»
U.S. companies violated Iran sanctions, indictment says
»
L.A. Kings' Jarret Stoll arrested on drug charge
»
'Goopy, mushy' creatures invade beaches
»
Vet claims she killed cat with arrow, posts photo
»
Deputy in shooting says he did required training

NPR National Headlines
»
Security Tightens For Second Boston Marathon Since The Bombing
»
Remembering The Day The Murrah Building Was Bombed
»
U.S. And Saudis Place Sanctions On Pakistani Charity
»
Candidates And Candidates-To-Be Woo New Hampshire's GOP
»
Jon Krakauer Tells A 'Depressingly Typical' Story Of College Town Rapes
»
This Robot Chef Has Mastered Crab Bisque
»
Setting The Record Straight On The Phrase 'Gateway Drug'
»
Rules For No-Fly List Disclosures Get An Update
»
Late Chicago Chef Sought To Open 'A New Page In Gastronomy'
»
WWII Aircraft Carrier Is Found 'Amazingly Intact' On Ocean Floor Near San Francisco
---
Local and State News and Views...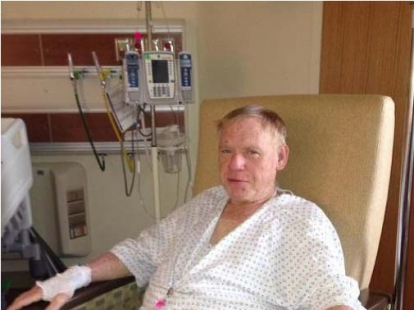 George Barnes served his country for 30 years
VA needs more resources, says vet who was saved, then tossed out minus his wallet and dignity
March 10, 2015
By: Jack Strickland

The VA is broken. Medical care for veterans is so inadequate it is a joke.
The Veterans Administration simply does not care. The welfare of those who served in the military is of no concern to the VA. The brave men and women who sacrificed to defend and preserve America are a forgotten group of patriots. The VA seems to want to ignore the problem and keep vets out of sight and out of mind.

Those were the sentiments of a thirty year Navy veteran who served at the Pentagon. George is engaged in a ten year long struggle with the VA over his medical care. He suffers from chronic heart problems.
He has been homeless and living on the streets. He is frequently dirty and unkempt. He doesn't think the VA wants him around. He has been threatened with arrest for trespassing at the VA hospital when he went there experiencing chest pains.

George's views changed on Christmas Day. On that day the VA saved his life. He was transported to the VA hospital by ambulance. They had to take him in. He was experiencing shortness of breath and his heart beat was irregular.
Shortly after he was admitted to the hospital he went into cardiac arrest. Had he not been at the VA or some other medical facility when he flat-lined George would be dead.

George has no next of kin. I have… (Read More)
---

'What? Café' menu boasts music, has become a popular hangout for young adults, state workers, others
February 23, 2015
By: Aerika Miles

What? Café is beloved by many local students in Tallahassee. Coffee, tea, pastries and the famous fried rice are specialties at the café.
A Tallahassee native and humanities major at… (Read More)

Civil rights pioneers tell of struggle in Tallahassee
February 19, 2015
By: Brielle Gordon

Civil rights pioneers the Rev. Henry Steele, PhD, and Attorney John Due recently shared their captivating stories at the Museum of Florida History auditorium in honor of Black History month.
…
(Read More)
---
Opinion...
A night to remember as UF champion gymnastics team salutes cancer patients with "magic medicine"
It was a night to remember. College athletes and their supporters struck a significant blow in the fight against cancer. The Florida and Kentucky gymnastics teams performed championship routines to the delight of a packed audience at the Stephen C.… (Read More)
---
Florida Tales...
Nation's handicapped got royal treatment as Tebow Foundation sponsored a special night
By Jack Strickland
It was a night to remember. Tim Tebow has done it again. He and his foundation made Valentine's weekend very special for several thousand Special needs young men and women and their caregivers. They called it… (Read More)
---
The Outlook...
---