Recent TTN News Content
• IBM corporation helped Nazi Germany round up Jews and send them to extermination camps, author says - IBM leased its computing machines to Nazi Germany to round up Jews and send them to their deaths by the millions in World War II. ...
• Quick triggers, quick judgment - when did life become so outrageously cheap in our country? - The parade of death continues as police shoot and are shot in a society that needs to take time to retrain its ways of thinking. ...
• Rickards student faces charges for carrying gun to school - A Rickards student is facing charges for carrying a gun to school. He apparently mentioned this over the Internet and was arrested by police at the school. ...
• He keeps a vigil for his daughter Staci as killer tries to walk free from prison - Marvin Weinstein drove 500 miles last week to Tallahassee to ask Florida's Parole Commission to keep the killer of his daugter in jail. ...
• Abused, neglected animals come to local animal shelter at rate of more than 70 a day - Animals cannot speak for themselves or fight back. Many face their last chance to survive. More than 70 animals are brought into the Tallahassee-Leon County Animal Services Center every day. ...
• Many other tragic shootings shed stronger light on police behavior than the Michael Brown incident - There are many other cases involving police shootings of innocent victims that make for better arguments than the Michael Brown case. Columnist Jack Strickland tells why these cases need more scrutiny....
• Florida's civil rights movement showcased in museum's new exhibit - The new civil rights exhibit at the Museum of Florida History tells about pioneers in the movement for equal rights in Florida. ...
• If you are going to vote, Crist and Graham seem like best choices - The Tallahassee News supports Charlie Crist for governor, Gwen Graham for U.S. representative. ...
• 'Officer Friendly' changes his role as he dons the deadly armor of a hostile invading army - As police acquire more surplus military equipment, the urge to use it takes on a kind of urgency, resulting in often-dangerous consequences for the public. Police say they face more dangerous criminals and need to have sophisticated tools, but sometimes the tactics backfire. ...
• New state crime statistics fraught with questions, challenges on racial imbalance - Florida's new crime statistics show high percentages of blacks arrested for crime and incarcerated. Figures draw responses of law enforcement....
• Dear Dad: How to keep your child safe from confrontation with police, road ragers - Dear Parents - Please teach your children how to avoid confrontation with police officers. Then go out and fight for reforms that are so badly needed. ...
• How long will public tolerate militarized police? Why are so many blacks killed? - Poice training varies, but police usually have the license to kill if they say they were in fear of their lives. Most police officers are exonerated because of these conditions. ...
• Gators will rebound as Tally News makes fearless top-20 college football predictions - Grab your seat and hold on to your hat! Football season is going to kick off and fearless prognosticator Jack Strickland tells it like it is going to be. FSU, Alabama, and watch for the Gators. ...
• Markel letter writer said he must be shut down 'by all means necessary' - FSU Professor Dan Markel, shot down brutally last week, thought his family was in danger two years ago in a dispute on the Web. He was seen by some as an elite representative of law schools that were misleading students into thinking there were career opportunities. ...
• Nation's tragic cycle of police-citizen violence reminds of a killer's oath at Florida State prison - The battle between the good guys and the bad guys takes on new meaning alongside a drastic increase in police-related shootings. It is a vicious cycle and well-illustrated by two ex-Florida prisoners who shot and killed four policemen in California years ago. ...


CNN National Headlines
»
Jury selection in Boston bombing trial
»
Boston Marathon Terror Attack Fast Facts
»
Question looms: What did Tsarnaev's wife know?
»
Photos: The arrest of Dzhokhar Tsarnaev
»
Evidence photos from Boston bombings
»
Adventurer climbs icy Niagara Falls
»
Civil War ship being pulled from river
»
Aaron Hernandez murder trial begins
»
Just when New England had dug out...
»
Swapped Bergdahl detainee returned to fight

NPR National Headlines
»
In Qatar, Released Taliban Member Raises U.S. Concerns
»
Shake Shack Sizzles With IPO As McDonald's Fizzles
»
The Real Super Sunday Battle Is In The Snack Bowl
»
Republican Gov. Rick Snyder Turns To Voters To Approve Tax Increase
»
Is There A #PubRadioVoice That Sounds Like America?
»
Seahawk Cornerback's Baby Could Make A Touchdown During Super Bowl
»
'Suge' Knight Charged With Murder After Fatal Hit-And-Run
»
Seahawk Marshawn Lynch's Silence Becomes The Story
»
Week In Politics: Romney, Koch Brothers, Budget
»
Romney Ends Flirtation With 2016 Presidential Run
---
Local and State News and Views...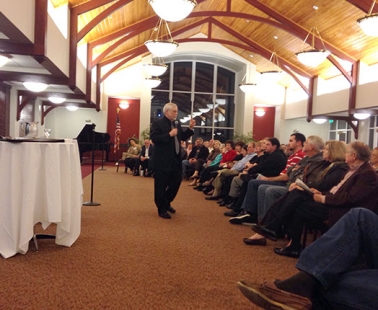 Edwin Black shows evidence of IBM's involvement (Photo by Ayana King)
IBM corporation helped Nazi Germany round up Jews and send them to extermination camps, author says
January 27, 2015
By: Ayana King

One of the largest American corporations was involved in the extermination of six million Jews by Germany during the Holocaust in World War II.
In honor of the 70th International Holocaust Remembrance Day on Jan. 27, the Holocaust Education Resource Council (HERC) and Florida State University College of Law invited NY Times bestselling author Edwin Black to lecture on his award-winning book, "IBM and the Holocaust."
Over the past 12 years, Black has conducted extensiveast 12 years, Black has conducted extensive research to discover what he now knows as the conscious involvement of International Business Machines Corporation (IBM) with the extermination of over 6 million Jews during the Holocaust.
Introduced by Barbara Goldstein, president of HERC, Black was described as a world-class scholar. With numerous published books and articles under Blacks' belt, award-winning actor Brad Pitt has requested movie rights to "IBM and the Holocaust."
"We need to continue teaching everyone about the horrors of the Holocaust," said Goldstein.
Rita Blank, VP of HERC, explained the importance of Jan. 27 and the liberation of the concentration camp, Auschwitz.
"All over the world, people recognize the Holocaust," said Blank. "This year marks the 70th anniversary, thus making it a very special recognition."
Black began his lecture by informing people that it has been a struggle to keep this topic alive and that considering the recent attack on Jews by Islamacists in Paris, there is no shyness for some in advocating repetition of these horrific acts.
Many years… (Read More)
---

Quick triggers, quick judgment - when did life become so outrageously cheap in our country?
January 27, 2015
By: Jack Strickland

When did life in America become so cheap? Almost daily, policemen are shooting those they have sworn to protect and serve. The public is shooting cops with such frequency the… (Read More)

Rickards student faces charges for carrying gun to school
January 21, 2015
By: Keira Green

Most high school students are worried about their grades and facing graduation, but that is no longer the case for one student.
A 16-year-old student at Rickards High School… (Read More)
---

Opinion...
Mom refuses to send kids to school program to honor city's cops - the family suffered enough
By Jack Strickland
The young mother refused to salute the police. She kept her two children home from school on Friday so they did not have to honor cops.

Some feathers were ruffled. At a time… (Read More)
---
Florida Tales...
Sophia, 10, battles leukemia with courage as champion Gator volleyball team wears her ribbon
Sophia Castro is fighting a tough battle against leukemia.
The 10-year-old has been confined to Shands Hospital in Gainesville for several weeks. She never left the hospital but, last week, but she had a powerful impact on champion athletes… (Read More)
---
The Outlook...
---