Recent TTN News Content
• FSU could receive NCAA sanctions similar to those of Penn State sex scandal - Recent events will add up to more problems for Florida State University when NCAA and Title IX investigators report their findings. ...
• Gators end Florida State's baseball hopes in big wins in Gainesville; on to the Series - Getting back into the College World Series was a dream for both teams, but the Gators managed to teach Florida State a lesson or two. ...
• Miracle of heart transplant puts 'inoperable' Rachel, 10, back in the arms of her new family - The dramatic story of how 10-year-old Rachel McCary got her new heart and a new chance to live is told by Jack Strickland who watched closely at the hospital in Gainesville while a miracle was performed. ...
• Colorful veteran George Barnes' last words were "Don't give up the ship" - George Barnes found himself an outsider at the end of his life, but he made a difference to a lot of people. He gave and shared compassion, and up to the end, he fought a good fight and found a lot of friendship. ...
• VA needs more resources, says vet who was saved, then tossed out minus his wallet and dignity - Experiences suggest the VA does not care about the very people they are supposed to serve, says man who knows...
• 'What? Café' menu boasts music, has become a popular hangout for young adults, state workers, others - What? Cafe is a place to play music, drink coffee, sample a variety of food. ...
• Civil rights pioneers tell of struggle in Tallahassee - 'Unspoken bond' between people of civil rights generation is explained by those who went through the struggle in Florida. ...
• IBM corporation helped Nazi Germany round up Jews and send them to extermination camps, author says - IBM leased its computing machines to Nazi Germany to round up Jews and send them to their deaths by the millions in World War II. ...
• Quick triggers, quick judgment - when did life become so outrageously cheap in our country? - The parade of death continues as police shoot and are shot in a society that needs to take time to retrain its ways of thinking. ...
• Rickards student faces charges for carrying gun to school - A Rickards student is facing charges for carrying a gun to school. He apparently mentioned this over the Internet and was arrested by police at the school. ...
• He keeps a vigil for his daughter Staci as killer tries to walk free from prison - Marvin Weinstein drove 500 miles last week to Tallahassee to ask Florida's Parole Commission to keep the killer of his daugter in jail. ...
• Abused, neglected animals come to local animal shelter at rate of more than 70 a day - Animals cannot speak for themselves or fight back. Many face their last chance to survive. More than 70 animals are brought into the Tallahassee-Leon County Animal Services Center every day. ...
• Many other tragic shootings shed stronger light on police behavior than the Michael Brown incident - There are many other cases involving police shootings of innocent victims that make for better arguments than the Michael Brown case. Columnist Jack Strickland tells why these cases need more scrutiny....
• Florida's civil rights movement showcased in museum's new exhibit - The new civil rights exhibit at the Museum of Florida History tells about pioneers in the movement for equal rights in Florida. ...
• If you are going to vote, Crist and Graham seem like best choices - The Tallahassee News supports Charlie Crist for governor, Gwen Graham for U.S. representative. ...


CNN National Headlines
»
D.C. is sinking into the ocean
»
Opinion: The 5 telltale techniques of climate change denial
»
Pope: We cannot separate ourselves from the environment
»
Zimbabwe to U.S.: Extradite dentist over killing of Cecil the lion
»
Good Samaritan family is gunned down in Montana
»
Inmate kills before he's recaptured
»
1 firefighter dies as thousands battle California wildfires
»
Libyan symbol of freedom now a Colorado inmate
»
Undocumented man charged in killing
»
Coast Guard ending search for Florida teens

NPR National Headlines
»
Empire Strikes PAC And Other Punny SuperPAC Names
»
Police-Community Collaboration Has Helped Kept Peace In Cincinnati
»
At The Purple Pie Place, Where The Crusts Are Just Sweet Enough
»
Edison's 'Little Monsters' Restored To Their Original Freakishness
»
Kerry Aims To Repair Relations With Egypt
»
Kurdish Militias Appear To Be Sidelined By U.S.-Turkey Military Deal
»
Black Lives Matter: Coming To A Museum Near You?
»
Winds Of Change? Rhode Island Hopes For First Offshore Wind Farm
»
Coding Camp to Baltimore Schools: Bring Us Your Bored!
»
Mark Zuckerberg's Facebook Update: Expecting A Baby
---
Local and State News and Views...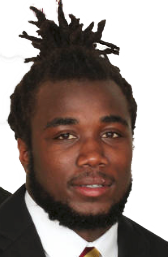 Dalvin Cook faces charges
FSU could receive NCAA sanctions similar to those of Penn State sex scandal
July 12, 2015
By: By Jack Strickland

July has been a rough month for Florida State football. Two members of the team have been arrested in separate incidents and charged with misdemeanor battery. Both players are charged with striking women in the face with sufficient force to cause injury. The incidents occurred during the month of June in or around bars near the Florida State campus.

On Monday Coach Jimbo Fisher announced that freshman De' Andre Johnson has been dismissed from the team after video from a bar went viral showing him strike a 21-year-old coed in the face in an apparent tussle over access to the bar.

On Friday Coach Fisher "suspended indefinitely" star running back Dalvin Cook after Leon County State Attorney Willie Meggs announced that charges have been filed against Cook.

Both players are presumed innocent until a court determines otherwise.

These latest arrests may be the tip of the iceberg of problems facing the Seminole Athletic Department. Florida State is currently under investigation by the NCAA and the federal government in the aftermath of previous allegations of a culture of abuse of women by the school's football players.

People familiar with procedures governing Title IX and NCAA violations think FSU may be hammered with sanctions similar to those handed down against Penn State in its recent sex scandal. Under pressures from the scandal, the Penn State athletic department was virtually dismantled and the football… (Read More)
---

Gators end Florida State's baseball hopes in big wins in Gainesville; on to the Series
June 10, 2015
By: Jack Strickland

By Jack Strickland
Florida ended Florida State's 2015 baseball season in Gainesville over the weekend. The two college baseball titans clashed at the NCAA Super Regional. The championship playoff format… (Read More)
Miracle of heart transplant puts 'inoperable' Rachel, 10, back in the arms of her new family
May 18, 2015
By: Jack Strickland

Rachel McCary has a new heart. The spunky 10 year old is scheduled for discharge this week from Shands UFHealth Children's Hospital in Gainesville following successful heart transplant surgery. She… (Read More)
---

Opinion...
There are just no guarantees in a presidential election
The history of the United States being as unpredictable as it is, it's useful to reflect upon what is usually discerned as the wisdom of the voting public.
The ad which said "this is not your father's Oldsmobile"… (Read More)
---
Florida Tales...
Nation's handicapped got royal treatment as Tebow Foundation sponsored a special night
By Jack Strickland
It was a night to remember. Tim Tebow has done it again. He and his foundation made Valentine's weekend very special for several thousand Special needs young men and women and their caregivers. They called it… (Read More)
---
The Outlook...
---