Recent TTN News Content
• OL Samuels dies; creative folk artist won state, national acclaim, family asks for help for expenses - O.L. Samuels, 85, was a boxer, bounty hunter, singer, arborist, minister and acclaimed folk artist whose unique carvings were recognized by the public, art collectors and museums including the Smithsonian. ...
• A free life is a miracle for Calvin Thomas after he serves 57 years of a death sentence - It is no small miracle that Thomas is alive. His death warrant was signed in the 1960's. He was moved to "The Ready Room" next to the electric chair as preparations were made for his execution. The courts granted a stay of execution hours before he was scheduled to be put to death. Now, he will enjoy a new life, out of prison. ...
• Aaron Hernandez left a message of eternal life as he willfully took his own life in prison - Aaron Hernandez was a gifted athlete who led a troubled life. But his suicide caught friends and family by surprise, a week after an quital in court on another case. ...
• Frosty the Snowman provided a chilly break from Florida's warmer winter weather - Visiting up North was an experience that a Floridian could enjoy, but coming home to warmer weather makes one appreciate Florida. ...
• Women prisoners count their blessings on a tearful Thanksgiving at Lowell Prison - Visits on Thanksgiving were all too short at Lowell Prison where children were asking "Why can't I stay with Mommy?" Columnist Jack Strickland visits at Lowell and writes a riveting story about the emotions of the day as families got together all too briefly. He came away with both a feeling of sadness and of joy. ...
• "Souls to the Polls" march re-enacts history to inspire students at FAMU to vote in the election - FAMU students recreated history on Sunday with a march to the polls to demonstrate the importance of voting and to inspire students to vote in the national election. ...
• Florida women's prison is nightmare as prisoners endure humiliation, poor medical care, rip-offs - Florida's major prison for women is an endless nightmare for those who have to endure the permanent psychological scarring that results from little privacy, no meaningful rehabilitation, general neglect of medical care by the prisons, and the rip-off of high prices for phone calls and items supplied by private contractors. ...
• Question is whether Adelson family was involved in Markel murder, and motives of the suspects - Questions remain unanswered about release of evidence and possible motives for murder - were suspects trying to extort money from Adelsons? ...
• Small explosion causes chaos at Florida A&M University - An explosion at the FAMU campus Thursday was actually a dishwasher catching fire. However it did cause a scare among faculty, staff and students at the Presidential Dining Hall. ...
• In a surprise appearance, Shaq has a ball inspiring neighborhood kids to dream big - A surprise visit by the former star basketball player to Gainesville and the police department brought out good feelings all around as kids got to play with superstar. ...
• 'Cash register justice' for the poor means no justice for many in Florida courts - Prosecutors now seek to extract fees from indigent defendents to help pay office costs, causing possible miscarriage of justice, says national justice center. ...
• If Jeb Bush ever really went to prison in Florida, he wouldn't get a happy reception - The disaster of corruption, privatized prisons, and loss of competent leadership in state prisons is Jeb Bush's legacy in Florida. ...
• Court fails to convict police officer in NC shooting death of former FAMU football player - Family pleads for calm as jury fails to find officer guilty in shooting death of Jonathan Ferrell in Charlotte; no decision yet on retrial. ...
• Carson wins best dressed while Trump brings up the rear in the clash of haberdashery at GOP debate - Who was dressed to win the recent GOP debate? Who wore the most stunning tie, and the best cut suit? Looks like neurosurgeon Ben Carson knows how to dress. Donald Trump, who sells a line of clothing, ironically finishes last. ...
• FSU could receive NCAA sanctions similar to those of Penn State sex scandal - Recent events will add up to more problems for Florida State University when NCAA and Title IX investigators report their findings. ...


CNN National Headlines
»
Charlottesville victim's mom has a message for white nationalists
»
Heather Heyer died 'fighting for what she believed in'
»
Explosive panel argument over Trump and race
»
America's complicated history with its Confederate past
»
Sen. Graham to Trump: 'Your words are dividing Americans'
»
Baltimore removes Confederate statues
»
Army chopper crashes off Hawaiian island
»
'Bathroom bill' dies in Texas legislature
»
Performer buses audience to Trump Tower
»
New 'Game of Thrones' leak hits season seven

NPR National Headlines
»
Federal Appeals Court Says Arkansas Can Block Medicaid Payments To Planned Parenthood
»
Trump Rolls Back Obama-Era Flood Standards For Infrastructure Projects
»
The Best Item In An Astronaut's Care Package? Definitely The Ice Cream
»
Texas' Special Session Ended, But State Lawkmakers Still Want To Discuss Bathroom Bill
»
How Do Teachers Talk About Hate Speech?
»
Jewish Leaders Say Anti-Semitism Around The Nation Is A Disturbing Trend
»
Sessions Continues To Criticize Sanctuary Cities During His Visit To Miami
»
President Trump Refers To Counter-Protesters As The 'Alt-Left'
»
Does Trump's Slippery Slope Argument About Confederate Statues Have Merit?
»
Trump Announces End To Manufacturing Council After Multiple CEOs Resign
---
Local and State News and Views...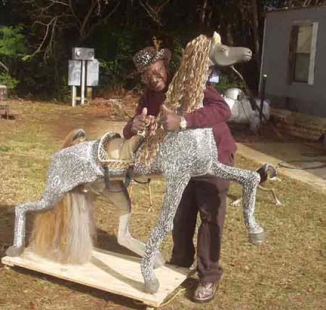 O.L. Samuels and folk art horse "Dana"
OL Samuels dies; creative folk artist won state, national acclaim, family asks for help for expenses
July 07, 2017
By: Michael E. Abams

One of the last things O.L. Samuels spoke about was that he was ready to meet Jesus.
That meeting must have occurred Thursday, July 6, when my friend O.L. departed this world to go to a better place, having relinquished to humanity a collection of artistic work that engages everyone, enough so that it has been acquired by collectors, museums, and hundreds of people, some of whom bought piece after piece.
He was prolific, if anything, and his wood carvings of everything from dinosaurs to singer Ray Charles to angels to tempestuous demons to glittering fish must have numbered in the thousands, and now they belong to the people who will be without O.L. to explain each piece with a special home-brewed tale.
The family, without resources at this time of great need, has asked for contributions from people to help pay for O.L.'s funeral expenses at https://www.gofundme.com/ol-samuel-funeral
A few years ago he won an award as one of Florida's best artists, but he probably equalled the lot of them in sheer ingenuity, if not industry. He hardly slept for working on his glittering speckled wood carvings, one of his favorites the Tennessee walking horse depicted here.
I was sure that had he lived in the Renaissance, he would have been matching the great artists, and, perhaps, setting a pace in imagination, having, as he said, swam with alligators and recovered from shootings and various calamities, such as a crippling fall from a tree which left… (Read More)
---

A free life is a miracle for Calvin Thomas after he serves 57 years of a death sentence
May 02, 2017
By: Jack Strickland

Calvin Thomas walked to freedom last week. The 74-year-old native of Jacksonville has been in prison since he was 17. It has been 57 years since he was sentenced to… (Read More)

Aaron Hernandez left a message of eternal life as he willfully took his own life in prison
April 19, 2017
By: Jack Strickland

Aaron Hernandez is dead.
The gifted 27-year-old football player, who starred for the Florida Gators and the New England Patriots, reportedly hanged himself in his prison cell early this… (Read More)
---

Opinion...
I wish I would have hugged my Dad who taught me so many lessons about life
By Dominique D. Roy
Florida A&M University
One of the many misconceptions that we have in life is that we as humans always have time to "do it later."
It's a cliché to admit that we know that there… (Read More)
---
Florida Tales...
Gator gym team changes sadness to a smile for cancer victims at Hope Lodge
By Jack Strickland
They brought hope to Hope Lodge. Last week, the number three nationally ranked Florida Gators Gymnastics Team hosted a dinner with cancer patients, their families, and caregivers. The college students were a big hit at the American… (Read More)
---
The Outlook...
---