Recent Opinion Content
• I wish I would have hugged my Dad who taught me so many lessons about life
• March in Washington helps revive spirits of marchers, sets up challenge for the future
• Drug addicts fight, sometimes lose, but agency keeps offering hope to community
• Drug addicts get
• Southern Scholarship Foundation offers welcome for honors students
• Real story: Time heals old split over FSU game, wish to return, as Spurrier comes home to cheers
• Encounter with a manatee on kayak trip down the Wakulla River
• Gay marriage decision is intriguing as we look at the opinions of Supreme Court justices
• There are just no guarantees in a presidential election
• Governor doesn't know how to govern, should resign and go back to private business
• A night to remember as UF champion gymnastics team salutes cancer patients with "magic medicine"
• Loss of limb no barrier for people in new support group in town
• Mom refuses to send kids to school program to honor city's cops - the family suffered enough
• Early Christmas miracle came at cash register as customer struggled to pay for her groceries
• Porsche made me feel like a million dollars

Recent TTN News Content
• Frosty the Snowman provided a chilly break from Florida's warmer winter weather - Visiting up North was an experience that a Floridian could enjoy, but coming home to warmer weather makes one appreciate Florida. ...
• Women prisoners count their blessings on a tearful Thanksgiving at Lowell Prison - Visits on Thanksgiving were all too short at Lowell Prison where children were asking "Why can't I stay with Mommy?" Columnist Jack Strickland visits at Lowell and writes a riveting story about the emotions of the day as families got together all too briefly. He came away with both a feeling of sadness and of joy. ...
• "Souls to the Polls" march re-enacts history to inspire students at FAMU to vote in the election - FAMU students recreated history on Sunday with a march to the polls to demonstrate the importance of voting and to inspire students to vote in the national election. ...
• Florida women's prison is nightmare as prisoners endure humiliation, poor medical care, rip-offs - Florida's major prison for women is an endless nightmare for those who have to endure the permanent psychological scarring that results from little privacy, no meaningful rehabilitation, general neglect of medical care by the prisons, and the rip-off of high prices for phone calls and items supplied by private contractors. ...
• Question is whether Adelson family was involved in Markel murder, and motives of the suspects - Questions remain unanswered about release of evidence and possible motives for murder - were suspects trying to extort money from Adelsons? ...
• Small explosion causes chaos at Florida A&M University - An explosion at the FAMU campus Thursday was actually a dishwasher catching fire. However it did cause a scare among faculty, staff and students at the Presidential Dining Hall. ...
• In a surprise appearance, Shaq has a ball inspiring neighborhood kids to dream big - A surprise visit by the former star basketball player to Gainesville and the police department brought out good feelings all around as kids got to play with superstar. ...
• 'Cash register justice' for the poor means no justice for many in Florida courts - Prosecutors now seek to extract fees from indigent defendents to help pay office costs, causing possible miscarriage of justice, says national justice center. ...
• If Jeb Bush ever really went to prison in Florida, he wouldn't get a happy reception - The disaster of corruption, privatized prisons, and loss of competent leadership in state prisons is Jeb Bush's legacy in Florida. ...
• Court fails to convict police officer in NC shooting death of former FAMU football player - Family pleads for calm as jury fails to find officer guilty in shooting death of Jonathan Ferrell in Charlotte; no decision yet on retrial. ...
• Carson wins best dressed while Trump brings up the rear in the clash of haberdashery at GOP debate - Who was dressed to win the recent GOP debate? Who wore the most stunning tie, and the best cut suit? Looks like neurosurgeon Ben Carson knows how to dress. Donald Trump, who sells a line of clothing, ironically finishes last. ...
• FSU could receive NCAA sanctions similar to those of Penn State sex scandal - Recent events will add up to more problems for Florida State University when NCAA and Title IX investigators report their findings. ...
• Gators end Florida State's baseball hopes in big wins in Gainesville; on to the Series - Getting back into the College World Series was a dream for both teams, but the Gators managed to teach Florida State a lesson or two. ...
• Miracle of heart transplant puts 'inoperable' Rachel, 10, back in the arms of her new family - The dramatic story of how 10-year-old Rachel McCary got her new heart and a new chance to live is told by Jack Strickland who watched closely at the hospital in Gainesville while a miracle was performed. ...
• Colorful veteran George Barnes' last words were "Don't give up the ship" - George Barnes found himself an outsider at the end of his life, but he made a difference to a lot of people. He gave and shared compassion, and up to the end, he fought a good fight and found a lot of friendship. ...


CNN National Headlines
»
Deadly storms pound Southern California
»
Torrential downpours flooding streets
»
Damage across the region
»
Opinion: Oroville is the best warning that infrastructure matters
»
Pentagon officials: Russian actions a 'test of the new administration'
»
1993 World Trade Center bombing plotter dies
»
SpaceX aborts flight to space station
»
Trump goes back to what he loves: Campaign rallies
»
George Takei: I hear terrible echoes of the past
»
Columbia University accidentally accepts, then rejects students

NPR National Headlines
»
In 'Get Out,' Jordan Peele Tackles The 'Human Horror' Of Racial Fear
»
Hampton University President Says 'The Quad' Doesn't Correctly Represent HBCUs
»
On Edge After Immigration Raids, Families Make Plans For If They Get Split Up
»
America's European Allies Still Seeing Mixed Messages From Trump Administration
»
Lack Of Education Leads To Lost Dreams And Low Income For Many Jehovah's Witnesses
»
In Times Square, Protesters Take To The Streets To Say 'I Am Muslim Too'
»
75 Years Later, Americans Still Bear Scars Of Internment Order
»
Mattis Disagrees With Trump's Characterization Of Media As 'The Enemy'
»
Facebook Wants Great Power, But What About Responsibility?
»
Trump Says, 'Look What's Happening In Sweden.' Sweden Asks, 'Wait, What?'

CNN World Headlines
---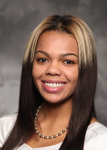 Opinion... Dominique D. Roy
I wish I would have hugged my Dad who taught me so many lessons about life
--- Advertisement ---
February 16, 2017
By Dominique D. Roy
Florida A&M University
One of the many misconceptions that we have in life is that we as humans always have time to "do it later."
It's a cliché to admit that we know that there isn't enough time to keep putting things on the back burner—but we get so consumed by our daily routines and getting to the next level that we lose sight on what truly matters.
The most important thing that I have learned as a young adult surviving in this new year, is that life is too short and you never know if you'll truly get another chance to put one more thing off.
As a little girl I felt so invincible that even as I got older, I thought I could rule the world. I have now come to know that it's just not that easy.
My father had a difficult time trying to get me to understand that. Being a young adult experiencing the world for the first time, you think that everything is either black or white, but my father knew there were areas of shades of grey, iwhich he would try to point out to me.
He was born in Maine in 1946

My father, Philip A. Roy Jr., was born in Lisbon Falls, Maine on April 16, 1946. It was a time where Americans were able to live their lives as human beings and not have to worry about the stressors that my generation carries, such as student loans, credit card debt and obtaining a job related to the degree, loans that could financially burden everyone.
His town thad mini-farms where people were able as a community to produce their own food. It was a must that men knew how to do handy work, and women had to learn the essentials of being homemakers.
But outside of that, my dad father had a true gift. He was a brilliant man who absorbed any information he ever received—which allowed him be fluent in German, French and Spanish. He was so skilled that he even helped Stephen King to become a better writer, as both attended Lisbon Falls High School, a year apart..
My father didn't get much of an opportunity after he came back from being drafted in the Vietnam War. He had to return to his little town and get small jobs as a foreign language teacher, an editor at the local newspaper and even being a sports coach.
My dad eventually flew down with the flock of snowbirds and managed prestigious hotels on South Beach that allowed him to run into my mother.
We were a racially mixed family
I think the hardest thing my father had to endure was having a racially mixed daughter. We would always get stares when a stranger overheard me call him "daddy."
Undergoing an identity crisis as I was, my father would console me and tell me how he, as a white man, didn't get the white privilege that every white person inherits when they are born. He taught me not to see color.
My father was always supportive, no matter what. Constantly, he explained how the world was unkind and fair—just find out where you can fit in and excel.
I had a small exchange with an individual the day before my father went under cardiac arrest. I went back to my parent's house to apologize for my outburst and my father stared at me and said, "you have so much going for yourself. Don't waste your breath on people who aren't going anywhere."
I told him that I understood —and I knew that he felt that I was sincere and not trying to merely act as if I cared. That was the first time that my father had ever validated that I would be successful.
My entire existence I tried my best to impress my father who never made anything less than an A in school. I learned how to play string, brass and woodwind instruments, not good enough. Graduated with honors, Not good enough. Went straight to college and his response was, "let's hope you're not a college dropout."
I rushed to the hospital
The morning he suffered a heart attack I rushed to the hospital praying that he was ok. My father was pronounced brain dead. I could not believe that a man who was so intelligent ended up being brain dead. For the next few days I went to the hospital to visit my dad. He was hooked on a breathing machine with his body just lying there.
When he died, I looked at his body and tried to process what just happened. I lost my daddy… all the memories I had of him just kept flooding my thoughts. I got to the point where I thought he was fictitious and never existed. The more I thought of him, the more I couldn't remember.
The day after my father's funeral, I drove to school to complete my last semester of college. I came to realize that my father was tough on me because he wanted to make sure I reached my full potential as an adult.
Parents have the gift of knowing their children's full potential that their children may not be able to see. It made me love my father with great appreciation. I was his baby girl, and he took pride in that.
My biggest regret is that I didn't get to hug my dad or tell him how much I loved him. Although he is gone, I know that he is always with me and in my heart I will always remain, my father's daughter.